Air Hogs Havoc Micro Helicopter
July 2007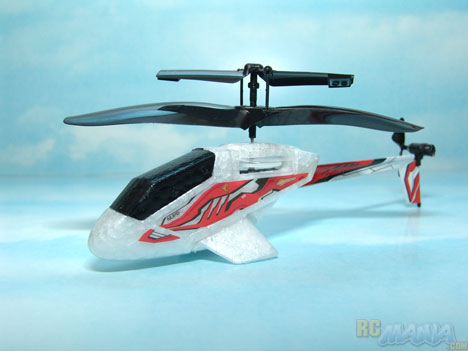 Street Price:
$29.99 US
Manufacturer:
Spin Master
Mfgr's recommended min. age:
8
Our recommended age range:
10+
Primary use:
Indoor
Radio:
n/a (infrared)
Includes:
Fully assembled helicopter
Controller / charger
Instructions
Requires:
6 AA batteries for the controller
Initial Impressions
IMPORTANT: The Air Hogs Havoc Heli has been updated over the years! See the newer versions reviewed:
This little bugger has been on the market for awhile as the "Picco Z" from the original manufacturer, Silverlit, and available from Radio Shack stores and online. It was a huge hit as the smallest & lightest, truly flyable helicopter ever sold. Air Hogs later began selling it as the Havoc reviewed here, making it even more popular. Well, I was happy with my little Helix and somehow thought something 1/3rd the size was just a gimmick. I kept staying away from the Havoc, but eventually I couldn't hold off any longer, and I ended up bringing one home!
| | | |
| --- | --- | --- |
| | | |
Well, first of all, yes, it is tiny. It literally fits in the palm of an adult's hand, and even a younger kid will hold it with two fingers. It looks like there's not a lot to it. The body is made of styrofoam and the tail is a rigid carbon rod with a sticker over it. There's a big gear under the main rotor, but it's completely sealed on both sides with a clear cover. The tail rotor seems to be powered by the tiniest motor I've seen my whole life.
All in all, though, the Havoc is not very impressive to look at. A little more detail to make it look more real would have been nice.
Preparing to Fly
Like Air Hogs' airplanes (but not the Helix), the Havoc is charged directly from the controller via a wire & plug that comes out the front and goes into the side of the heli. You have to plug it in, make sure the heli is off, then turn the controller on. A green light comes on, and when it goes out, you're ready to fly.
The only thing I'm worried about is that since the Havoc is infrared-controlled like a TV remote, I'll have to be careful to always point directly at it with the red infrared transmitter dome on the top of the controller. I hope it doesn't fall out of the sky if I turn away a little bit!
Testing
Two fins on the bottom of the Havoc plus a strut at the top of the taillet it stand flat on any surface, so I put it on the floor and stood back to take off. Hmm, didn't work so well. No matter how hard I tried, it seemed to always want to spin around from the force of rotor getting up to speed. Once it got in the air I could get control of it after awhile, but it was never a smooth takeoff. I started launching it from my hand by holding the sides of the lower fins with my thumb and index finger in my right hand, and holding the controller in my left hand and against my body, so I could control the left stick (hover up & down). This actually worked really well! You get to a little over 1/2 throttle, let go, and then just move your other hand to the controller and fly around.
Controlling the Havoc wasn't easy at first! A small bit of controller input sends it turning really fast in that direction, and the natural instinct then is to turn fast the other way to stop it from spinning, and you end up doing a zig-zag dance through the air. It took a bit of practice, but what I learned is that you need to get the left stick to where the heli hovers, then barely move it after that. On the right stick, you have to be very, very gentle! It's better to steer a little to little and slower than you want, rather than going too fast; otherwise it can start to get out of control. The good thing is that the controls feel pretty smooth and not clunky, so it's not impossible to get the control you need.
What I'm very happy about is that my worries around having to always point the controller right at the helicopter in the air were unfounded. It flew like it was radio-controlled. I didn't have to put any thought into how I was holding the controller, and flying around in a normal-sized room, it never seemed to get out of range or lose the signal.
Video
(Click a video a second time to view it larger in a new window.)
Conclusion
As you can see in the video, it really works! The Havoc is one of the smallest things you can fly, and it's a lot of fun once you get the hang of it. It just takes a fair amount of skill to fly it smoothly. It's also not exactly the hottest-looking toy you can get. For $30, though, it's worthwhile for indoor fun for fans of sky travel who don't quite have the space for a Reflex or don't want to spend much money to get in the air.