Pro Dirt Velocity
October 2011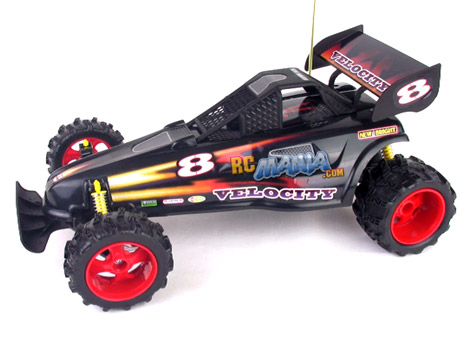 Street Price: $34.99 US
Manufacturer: New Bright
Mfgr's recommended min. age: 8
Our recommended age range: none
Primary use: Embarassment
Top speed: n/a
Radio: 27mhz
Includes:
Assembled vehicle
Controller
Requires:
Initial Impressions
This vehicle was first released as the Interceptor buggy in 2010. From the outside, the Pro Dirt Velocity is quite obviously the same thing again, just with new stickers and differently colored wheels. I very nearly skipped out on buying it altogether, but I ended up deciding to give it a shot in the off chance that something unsen had been done to make the Velocity ten times better than the terrible original version. Taking a closer look, I realized that there is a substantive difference. This one doesn't come with batteries. In fact, it doesn't use a rechargeable battery pack at all, substituting space for 5 AA cells in place of the original battery tray. In removing the rechargeable battery, the wall charger, and the 2 AA's the Interceptor included, they knocked $5 US off the in-store price. I'm not sure that was a good trade.
Testing
Just see the original New Bright Interceptor review. There is nothing different here. Same vehicle. Same unbelievably undersized motor. Same extremely slow speed. Same ridiculous lack of power causing it to slow to an even slower crawl or just get stuck over the smallest bumps or going up the slightest incline. Same wide turning radius. This is a horrible RC.
Video
(Click a video a second time to view it larger in a new window.)
Conclusion
The original New Bright Interceptor buggy instantly earned itself a position in the annals of disgraceful RC Malarkey history. While many new toy-grade RC products that raise the bar for quality and value have been released in 2011, New Bright has chosen to take one of their worst-performing products of the previous year, slap some new stickers on it, and put it right back on the market. This buggy should not have ever been released to the public in the first place. To release it again is indescribably insulting to this reviewer, and warrants both a new RC Malarkey entry, and my first-ever F double-minus rating.