Fast Lane RC Mini Buggy
June 2010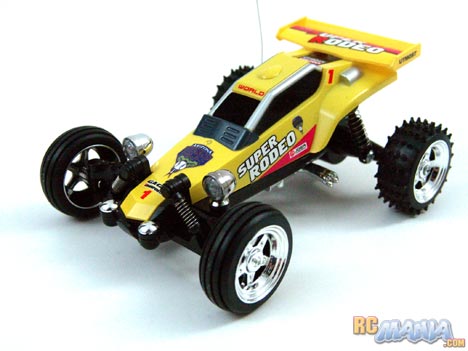 Street Price: $24.99 US
Manufacturer: Fast Lane RC
Mfgr's recommended min. age: 6+
Our recommended age range: none
Primary use: Indoor
Radio: 27mhz
Includes:
Vehicle
Transmitter / charger
Instructions
Requires:
6 AA batteries for the transmitter
Initial Impressions
I encountered the Fast Lane RC Mini Buggy cars on a recent trip to Toys R Us to see what was new in the RC world. I say "series" because there are a number of different body styles and colors available, and the first few I saw were not the one you see above. They look awesome. Real rubber tires, spring suspension, sleek bodies and a narrow chassis. They looked... strangely familiar. As I dug through the shelf to see more different versions, I came upon the yellow "Super Rodeo" version, and it all came back to me. I had tried one of these before! Originally manufactured by a company called Shen Qi Wei, famous for their ultra-micro RC cars, these Mini Buggies were just a re-released product with a new brand name. Nothing has changed, and thus, my feedback on the car will be no different from before.
A Fast Lane RC Mini Buggy is less than 5 inches long. It's not a palm-top ultra-micro, but it's not full-sized either. I'd call it around a 1/25th scale car. Again, it has a great outward appearance and features very nice details. Breaking from the norm, the springs are nice and soft and really designed to help the vehicle navigate over rough terrain. Things get more interesting when you start to get ready to run.
Preparing to run
The reason the middle of a Fast Lane RC Mini Buggy is so thin is that it uses a small-sized internal rechargable battery pack. You never remove the battery, youjust charge it. The controller has a charging cord that extends out and plugs directly into the car, similar to what you see with ultra-micro cars and with small RC helicopters and airplanes. It's a very simple setup and lets you get more play time from the car without swapping batteries or using a wall charger.
Testing
This is where any and all good things about the car come to a sudden and dramatic end. Simply put, the car is completely underpowered. The motor is too small, and the gearing is all wrong. It is so weak that it can only drive decently on perfectly flat surfaces, and if the surface isn't also smooth, it will still be sluggish. The nice springs and high-grip tires are essentially pointless, as the car cannot go anywhere they can really be used. It will barely move on even low-pile carpet. I tried hitting some small makeshift jumps, but it slows down a lot on any sort of incline. Even a slanted driveway can be a problem to drive up.
Conclusion
This is very disappointing to me. I feel like Fast Lane should simply never have put its name on these cars. They're total under-performers. They look great, and the suspension & tires have good potential, but the shamefully undersized powerplant kills any & all chances of this being a recommended buy. Save your money. Avoid these guys.